Getting back to work after a nice break and feeling refreshed! I just finished a white buffet that I am loving! It has that shabby chic appeal to it. I love buffets. I recently moved my
dining room
buffet into the living room for my TV.
I know, I said I would never move it!! Never say never.
This buffet is different than any I have done before. That always makes it fun.
I absolutely love all the details. I light painted over them and let the natural wood shine through. I love the spindly legs.
It is painted in white and waxed in clear. I let the paint technique be the distressing.
I left the original hardware on it and add a little paint to them also.
I have changed the hardware before on this
buffet
but when the hardware is awesome I leave it.
The drawers in this piece are awesome. One with dividers and the other is so deep.
Don't mind my mess!!



I know this piece won't last long. If it doesn't sell I don't mind having it for awhile :)
Buffet and hutches are my favorite thing to paint and sell!
Do you have a favorite thing to sell? What is it?
Every area is different. What sells best for you?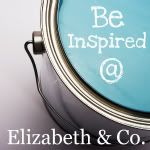 >